Go Big or Go Home! Met Gala 2019 Highlights
"Camp is over-the-top. Just fantasy, like what you would do when nobody was looking. If nobody was judging all the time, who you'd be?" When being asked to define the word "Camp", Jennifer Lopez, dressing in head-to-toe sparkling Versace gown, explained.
The most anticipated, well-known event in fashion The Met Gala titled this year as "Camp: Notes on Fashion", taking inspiration from the American critic Susan Sontag's essay "Notes on Camp" in 1964. The word "Camp" includes several meanings, from the cross-dresser and drag culture to the general concept of dressing extravagantly. In a word, "Go big or go home".
Unlike the strictly limited theme last year, "Heavenly Bodies: Fashion and the Catholic Imagination", "Camp" is a widely-ranged topic, allowing both designers and celebrities to create their own interpretations. The fact that Lady Gaga and Harry Styles, both known for their jaw-dropping style, are co-hosting the Met Gala 2019 is a guarantee to a significant night in history.
Biggest Designer of the Night
Moschino comes to mind immediately when speaking of "being extra" on the runway. Dressing Katy Perry, Trace Ellis, Bella Hadid, and 5 more celebrities, Jeremy Scott has successfully created countless highlights on the Met Ball red carpet, making him the biggest designer of the night.
Personally, I am in love with the jeweled gown on Bella. The holes perfectly carve her body, not to mention these gloves covered with gemstone are way too dreamy!
Thom Browne
Thom Browne equals camp and Cardi B never disappoints.
Cardi B is in the brand's signature anatomical silhouette, with a 3 meters-long train and yes, ruby nipples. "The inspiration behind it was feminism. This reflects the woman body: the nipples, the booty and of course, CAMP!" she explained, "We really wanna make sure it looks elegant, extravagant but not too Halloween-ish."
Another iconic work by Thom Browne is Zazie Beetz in "Groombride" suit (or dress?). Very campy, very Thom Browne.
The designer is well-known as blurring the gender in his design and actress Zazie surely delivers the concept.
Billy Porter made himself famous in fashion in the Oscar red carpet with the dramatic tuxedo-dress in February, and he is here to make a fierce Met Gala entrance. Created by The Blonds, the golden bejeweled catsuit with 10-foot wings and a 24-karat gold headpiece are inspired by Elizabeth Taylor in Cleopatra.
Yes, Billy, serve us with more campy looks this year, please!
Fashion designer Diane von Fürstenberg as Statue of Liberty. What's more iconic? Printing her own face on the dress!
Singer Janelle Monae is attending the Met Gala with her favorite artist, Picasso. This high-camp dress by Christian Siriano is the interpretation of Picasso's "Dora Maar", with the balloon-hipped confection and a blinking eye over one breast. However, it is the perfectly angled stacked-up hats that make me awe all the time.
Janelle rocked the red carpet with the exaggerated glamour, just as she put it in this way, "I am camp. It's embedded in my DNA."
Let's admit it. Celine Dion has turned from the world's best singer to the fashion dark horse.
Love this sparkly gown by Oscar de la Renta with the dramatic head piece, but I feel like the look suits the theme last year too. Um?
"We're going to be at the Met and everyone is going to stay and sleep all night together. But no."
Ha ha, Celine, glad your stylist still knows his job.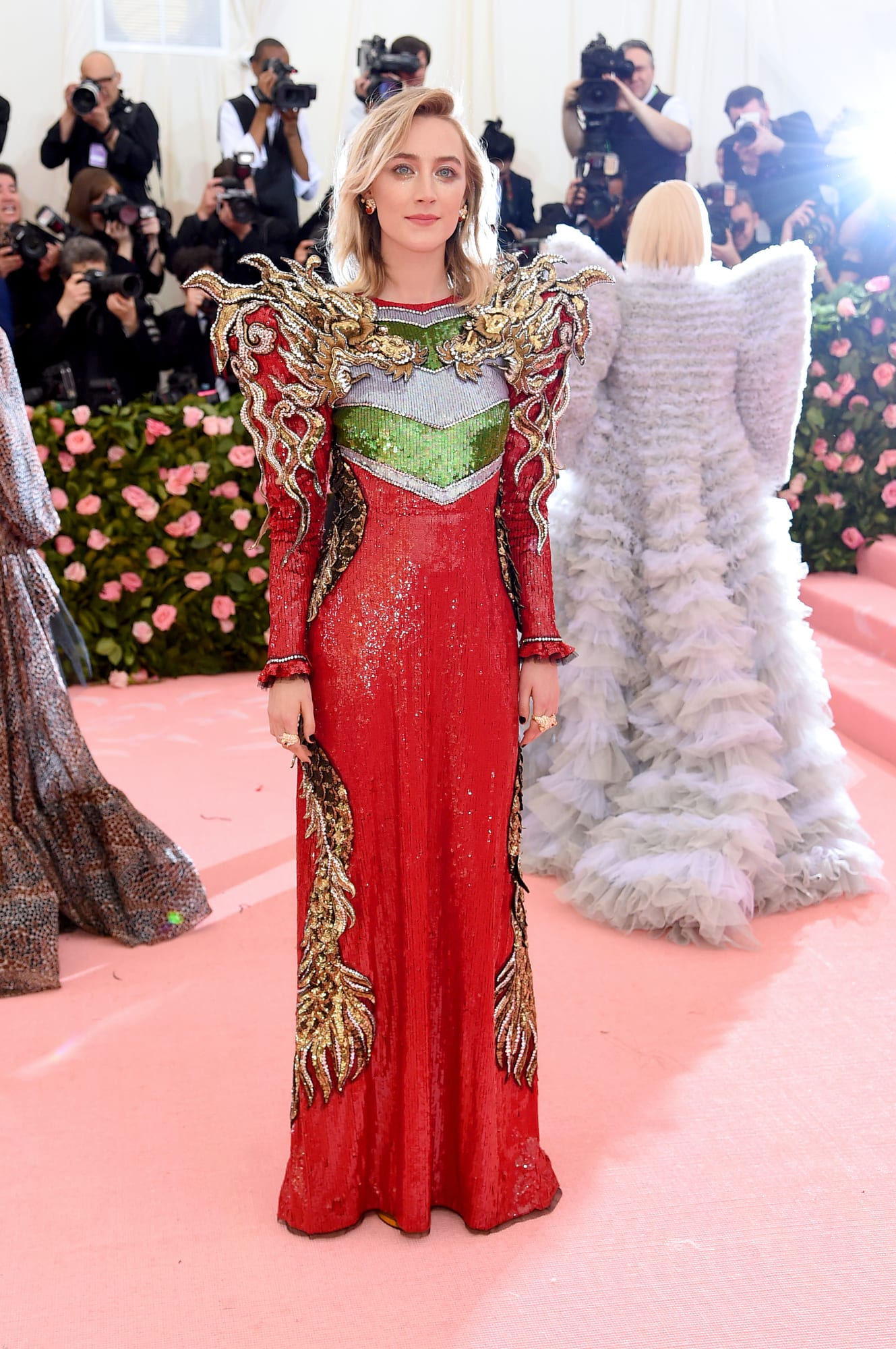 Yes, Gucci is always a wise choice for being campy.
Saorise Ronan in this bright red sequinned gown featuring golden-flame shoulders. Although I can't deny the dress is quite sensational, I wish I could see a more outraging makeup look or head piece.
Give A round of APPLAUSE for
Hamish Bowles in Maison Margiela Artisanal by John Galliano! With the mixmatch of mohair, ostrich feather and rainbow hair color, the Vogue International editor at large is nothing but too extra, too much feather, too much lavender, too over-the-top, but just enough campy.
so What do I Think?
Meh.
I can't deny there are several highlights on the red carpet and I genuinely admire the brilliant ideas behind every gown. "Camp: Notes on Fashion" should be jaw-dropping, breathtaking, heart-stopping, spontaneous high fashion red carpet. However, to my disappointment, the whole Met show feels like a circus with too many bad gowns.
Comparing to "Heavenly Bodies", the theme this year is too widely-ranged which can cause chaos and look very uncoordinated on the red carpet. And it did.
I am lost in all these maximal-ism outfits. Katy Perry as a walking chandelier, Kim Kardashian in wet look and Jared Leto holding a replica of his own head, honestly I am blown away by the creativity but confused by the looks as well. (So, what is the theme again?)
The Met Gala 2019 does not feel like a glamorous funfair, but a confusing fashion circus.